Here you will find an overview of OptiGrill accessories as well as detailed information about which accessories are compatible with which OptiGrill model.
OptiGrill accessories & spare parts at a glance
OptiGrill Baking Tray
With the baking tray, the Tefal OptiGrill can be turned into a small oven and can thus also prepare almost all dishes that you prepare in an oven – for example, lasagna, pizza or cakes. The baking tray has a non-stick coating and is dishwasher safe. You can find all info about the baking tray here: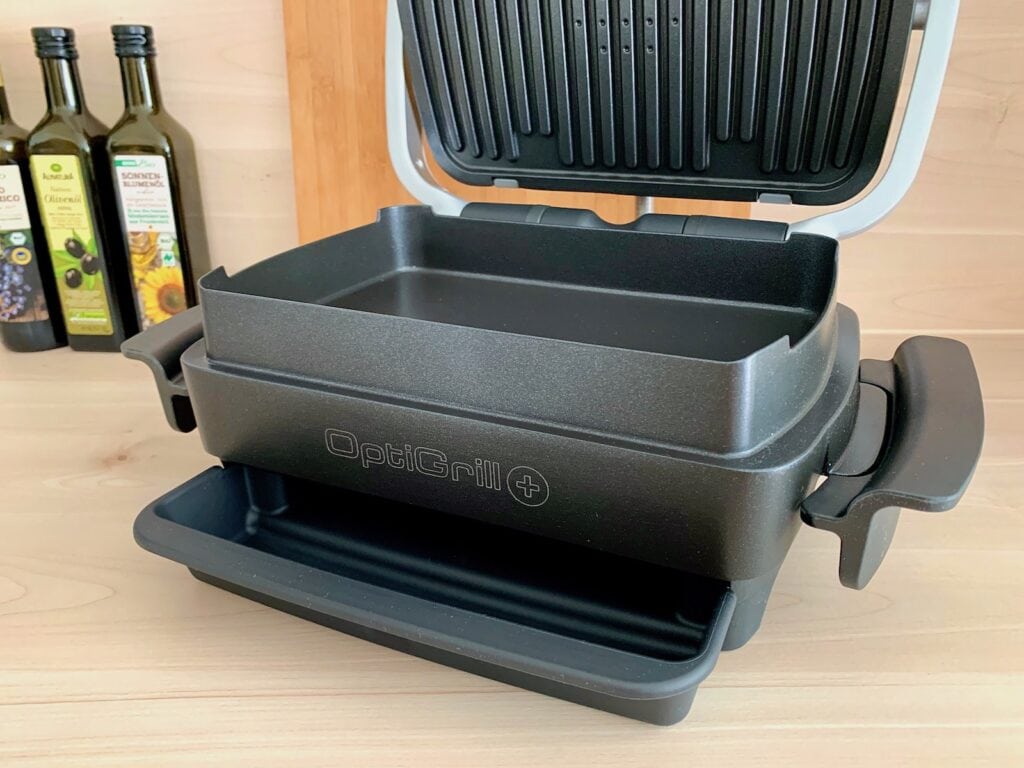 OptiGrill Waffle Plates
The waffle plates turn the OptiGrill into a great waffle iron that allows you to bake two delicious waffles at the same time. The waffle irons have a non-stick coating and are dishwasher safe. You can find all info about the waffle plates here: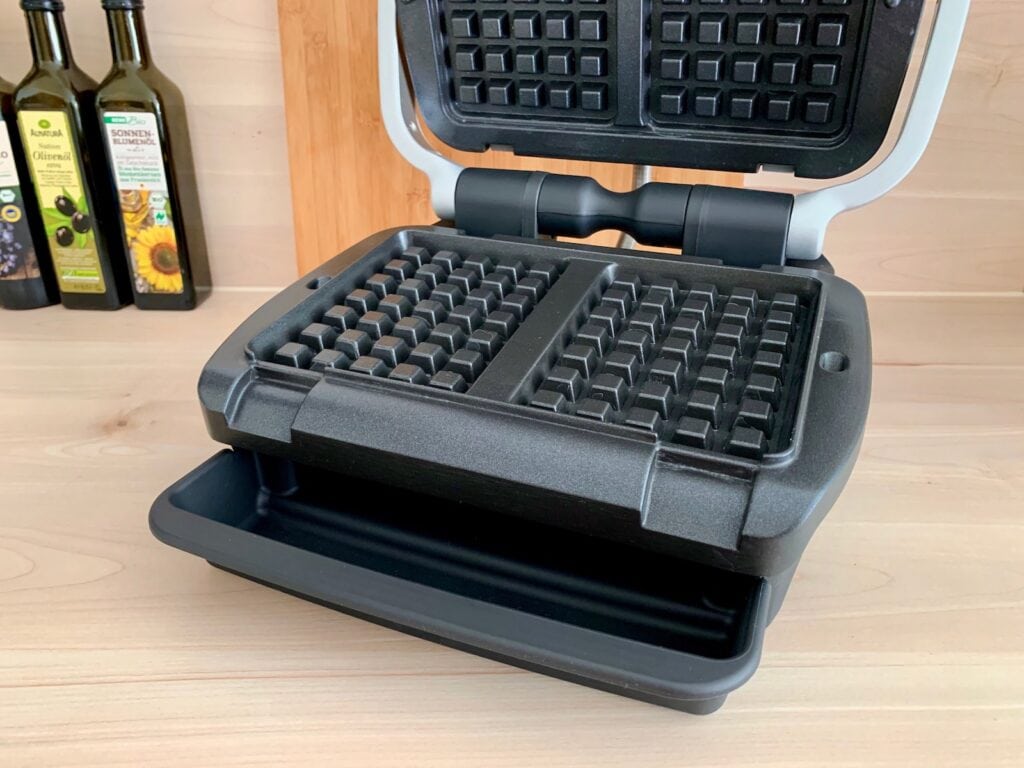 Spare parts
Grill plates
The grill plates in the OptiGrill are very high quality (non-stick and dishwasher safe), so they should last for years with normal use. If something does break, Tefal offers the grill plates individually (i.e. for the top or bottom) as spare parts.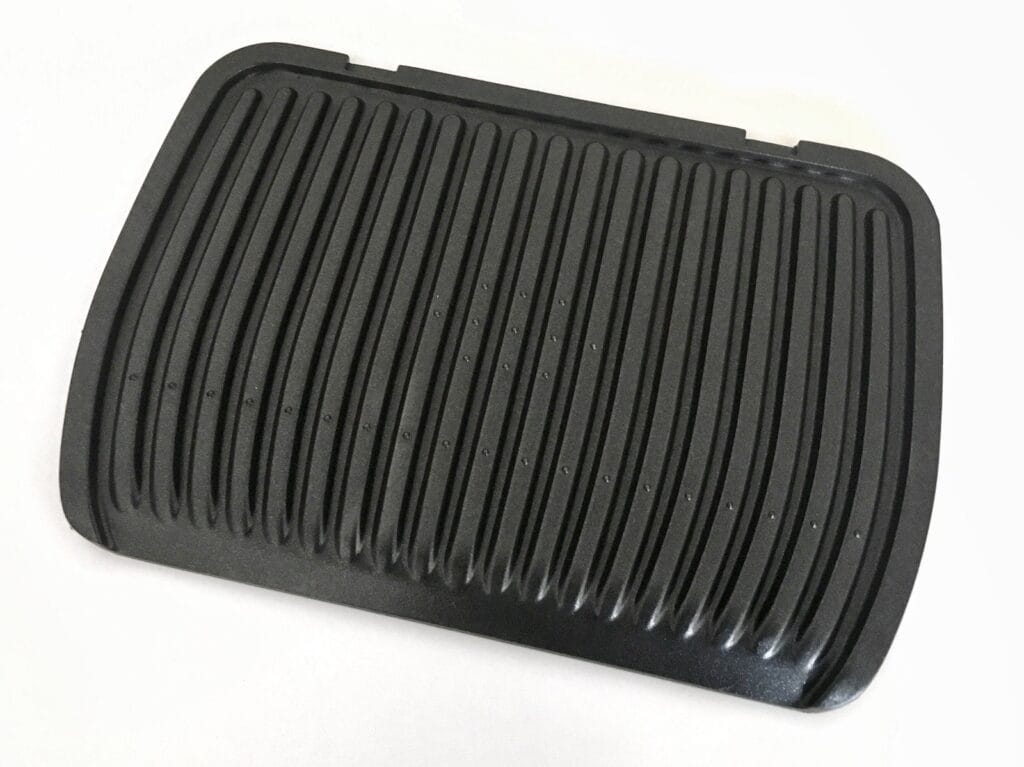 For frequent grillers, the purchase of a second pair of grill plates is also worthwhile: If the dirty plates from the previous day's grilling are still in the dishwasher, simply place the spare set on the OptiGrill.
Juice collection tray
As you may know, the OptiGrill slopes slightly downward at the front to allow liquids to drain.
The juice collection tray ensures that run-off fat or other liquids do not drip from the OptiGrill onto the worktop. A quite important accessory thus! The tray is also relatively indestructible, but Tefal has made provisions with replacement parts just in case.
The bowl is made of plastic and dishwasher safe.
Tefal OptiGrill (GC705D) Accessories
Baking tray
Waffle Plates
Tefal OptiGrill Plus (GC712D) Accessories
Baking tray
Tefal OptiGrill baking tray (XA7258) order at Amazon* / order at Tefal
Waffle Plates
Tefal OptiGrill Waffle Plates (XA7238) order at Amazon* / order at Tefal
Tefal OptiGrill Elite (GC750D) Accessories
Baking tray
Tefal OptiGrill baking tray (XA7258) order at Amazon* / order at Tefal
Waffle Plates
Tefal OptiGrill Waffle Plates (XA7238) order at Amazon* / order at Tefal
Tefal OptiGrill Plus XL (GC722D) Accessories
Baking tray
Tefal OptiGrill XL Baking Tray (XA7278) order at Amazon* / order at Tefal
Waffle Plates
Tefal OptiGrill Elite XL (GC760D) Accessories
Baking tray
Tefal OptiGrill XL Baking Tray (XA7278) order at Amazon* / order at Tefal
Waffle Plates
Tefal OptiGrill Deluxe (GC707D) Accessories
Baking tray
Waffle Plates
Tefal OptiGrill Smart (GC730D) Accessories
Baking tray
Tefal OptiGrill baking tray (XA7258) order at Amazon* / order at Tefal
Waffle Plates
Tefal OptiGrill Waffle Plates (XA7238) order at Amazon* / order at Tefal
Letzte Aktualisierung am 2022-11-29 / Affiliate Links / Bilder von der Amazon Product Advertising API