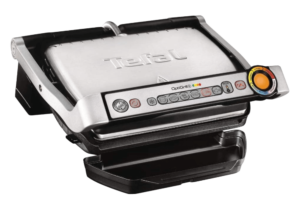 The Tefal OptiGrill Plus (GC712D) adds three additional levels to the basic model in the Manual program. Otherwise, the two models do not differ. However, the upgrade to 4 levels in the manual program is definitely worth it: This makes it easier to grill vegetables at different temperatures, for example. And: baking tray and waffle plates can be used as an extension of the grill.
The most important at a glance
Quick check model
The OptiGrill Plus offers the best price-performance ratio and is the perfect contact grill especially for beginners and occasional users. The grilling results will satisfy you and you can grill almost anything with the adjustable Manual mode. Additionally, with this model you can use both the baking tray and the waffle plates.
A super total package for a very good price. If you're willing to shell out more money, the OptiGrill Elite (GC750D) is an interesting option.
A direct comparison of all OptiGrill models can be found here: OptiGrill Buyer's Guide
Basic functions
The automatic grill programs grill the selected food at the optimal temperature.
The OptiGrill automatically detects how thick the food is. In combination with the selected program, it can then calculate the perfect grilling time. During grilling, it displays the current cooking level.
With the defrosting program, even frozen foods can be prepared on the contact grill without further effort.
The grill plates of the OptiGrill are non-stick and very high quality & durable.
The OptiGrill is tilted slightly downwards at the front. This allows grease or other liquid produced during grilling to drain easily – directly into the juice collection tray under the grill.
The grill plates and juice collection tray can be easily removed and cleaned in the dishwasher – eliminating the need to scrub the grill grate after grilling.
Available grill programs
FAQ – Frequently asked questions
Tefal OptiGrill Plus in test [Video]
In this video you can see a detailed test of the OptiGrill Plus model:
Buy Tefal OptiGrill Plus
Amazon sells the OptiGrill at a very reasonable price and – from their own experience – is always very accommodating when it comes to problems. That's why you won't go wrong with a purchase there. In addition, you might find important hints for your purchase decision in the countless reviews of other users.
If you don't want to buy the OptiGrill from Amazon, here's a link to the price comparison portal Idealo, where you'll find a list of all online retailers that sell the OptiGrill model – incl. the price comparison. Sort by selling price: OptiGrill Plus (GC712D) in price comparison at Idealo*.
Accessories
Baking tray and waffle plates
The OptiGrill Plus is compatible with the baking tray and waffle plates. In my guides, I introduce you to the accessories for the OptiGrill, with which you can turn the contact grill into an all-rounder in the kitchen.
Related links
If you are still unsure whether the OptiGrill is the right grill for you, the questions & answers I collected will definitely help you: Tefal OptiGrill Guide
More OptiGrill models
Letzte Aktualisierung am 2022-11-29 / Affiliate Links / Bilder von der Amazon Product Advertising API