OptiGrill Buyer's Guide
Which Tefal OptiGrill is the best? Which one is right for me? The various models of the contact grill are basically very similar, but show important differences in the details. My buyer's guide with a big OptiGrill comparison will help you find the right and best model for you.
You want to see a specific OptiGrill model directly? Select it here:
OptiGrill Accessories Guide
In my guides, I introduce you to the accessories for the OptiGrill, with which you can turn the contact grill into an all-rounder in the kitchen.
About OptiWelt

Hi, I'm Benni, glad you're here! Since I held it in my hands for the first time, I can't imagine my kitchen without Tefal's contact grill. I love good food, but I don't want to spend hours in the kitchen for it. That's why I took my OptiGrill straight to my heart.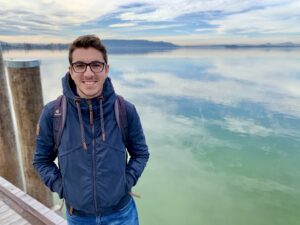 Pretty quickly I started trying all sorts of things on the OptiGrill and posting my recipes. But it was only over time that I realized how many people the OptiGrill already inspires and how actively this community shares its grilling experiences with each other.
And because, in addition to the recipes, a lot of advice content about the Tefal contact grill has been added in the meantime, and I wanted to offer the large OptiGrill community even more opportunities for exchange, at the beginning of 2021 I published OptiWelt. And I really hope you like it here! If you have ideas for improvements, feel free to write me!
In addition to this website, several other channels have since been added:
In August 2020, I published my OptiGrill Recipes Cookbook, in which I wrote down my 60 favorite recipes for the grill, baking tray and waffle plates, as well as many tips and tricks from my experience with the OptiGrill:
When I'm not grilling, I like to travel around the world (preferably Europe) or explore the nearby surroundings – because the most beautiful places can often be found just around the corner. If you want to know more: Just have a look at my personal website.
Letzte Aktualisierung am 2022-08-19 / Affiliate Links / Bilder von der Amazon Product Advertising API